Quality is not left to chance, it is rather the result of planned, systematic, and continued compliance with internal and external requirements e.g. teaching, it's organization, and study programs. Founded in 1998 GPE was as one of the first postgraduate master programs at TU Berlin which was accredited by the ASIIN. 
Meanwhile, the TU Berlin changed their quality focus from pure quality assurance of separate study programs to having the university as a system evaluated. System accreditation results in the accreditation of all study programs offered by a higher education institution. System accreditation has the overall objective of evaluating an institution's internal system of quality assurance in teaching and learning. The relevant institutional structures and processes are checked for their ability to ensure the high quality of the study programs and the achievement of qualification goals. 
A system accreditation certifies that the higher education institution's system of quality assurance in teaching and learning is suitable to ensure the achievement of qualification goals and the high-quality standard of its study programs. The accreditation decision applies to all study programs which are introduced after accreditation and to programs that have already undergone internal quality assurance based on the accredited system. Hence, system accreditation makes it possible for higher education institutions to have the reliability of their internal quality assurance system certified.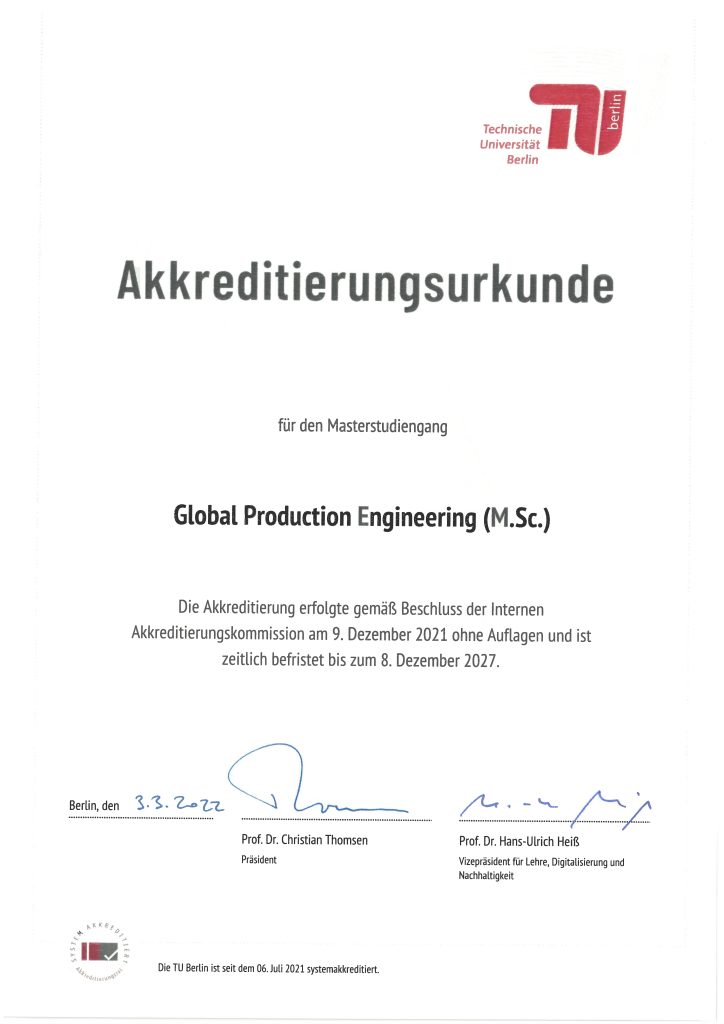 The master's program "Global Production Engineering" has been accredited by ASIIN (specialized accreditation agency for study programs in engineering, computer science, natural science, and mathematics) for 8 years since 2006. The accreditation confirms the high standards set in the study program of GPE. 
The accreditation was granted in accordance with the decision of the internal accreditation commission on December 9, 2021, and is valid until December 8, 2027.