Modern Infrastructure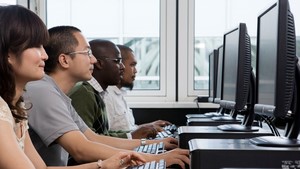 Students have access to the eduroam service, which is available at universities all over the world and in most buildings of the TU Berlin. Learning materials and other important information are shared through a modern Learning Management System called ISIS. Furthermore, students are provided with all the software needed to complete relevant homework assignments at the computer pool. Naturally, they can use their laptops. The software consists of standard software as well as special simulation and modeling programs. Software and the considerable literature supply of the TU Berlin can also be accessed from home via VPN. Test equipment is well represented in the Production Technology Center. The following plants are available for research and measurement:
Laser cutting plant,
Rapid prototyping,
CNC work center,
Flexible assembly cell,
Flexible dismantling cell,
Various robots,
High-speed cutting (HSC) engines,
Virtual reality laboratory,
Climate and acoustics laboratory.
Teaching is conducted within the framework of practice-oriented exercises in the laboratory as much as possible. For this, an experimental field of more than 3500 m2 is located at the Production Technology Center.
Production Technology Center

The Production Technology Center Berlin (PTC) is one of the biggest research facilities for production technology in Germany. The Production Technology Center Berlin covers the Institute for Machine Tools and Factory Management (IWF) of Technische Universität Berlin and the Fraunhofer Institute for Production Plants and Construction Technology (IPK). At the Institute of Machine Tools and Factory Management, the research and teaching programs focus on technology and management in industrial factory businesses today. These range from the development of process technologies and production plants to information technology. Scientists work at the "digitally-integrated factory" in five departments.
The further growth of both institutes required a new building, which was acquired in 1986. Over 500 employees work in research, teaching, and industrial development here today. The central test field alone comprises 3,850 m2, and the total area at our disposal equipped with the most modern machinery, computers, and software systems comprises a workspace of 15,000 m2. With this infrastructure, PTC is one of Germany's and the world's most acclaimed research institutions for production technology.
For their work, the architects Gerd Fesel, Peter Bayerer, Hans-Dieter Heckel, and Roland Ostertag won the German architecture prize in 1987. The PTC works intensively with partners abroad both in research and in teaching.

The Production Technology Centre is located in the heart of the old Berlin industrial area at the Charlottenburg embankment of the river Spree. The PTC offers comprehensive and application-oriented system solutions covering Virtual Product Creation, Production, Assembly, and Automation Technology as well as Corporate Management. In addition, we focus our RTD services on Security, Mobility, Renewables, and Medical Technology.
Solar Training Center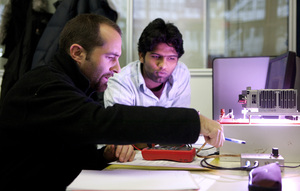 Above all, prospective engineers in the solar field need to build their practical knowledge in addition to their theoretical knowledge of technologies and applications. The goal of the Training Module is to demonstrate the functions of both individual elements as well as entire facilities for solar technologies, thus giving students a consistent practical reference in their instruction. The training equipment includes the most modern simulation and real-life gear, measuring instruments, as well as standard software for solar project development. It enables students to better understand the principles of solar technology and to work with equipment and tools typically used in the solar industry. The following practical training equipment is available:
Workstations
for determining the physical characteristics of solar cells (e.g. current-voltage curves, spectral efficiency, temperature effect, etc.)
Solar cells are made of different materials (amorphous and crystalline silicon, GaAs, CIS, etc.)
The most modern measurement equipment for recording performance characteristics of solar cells, functional models for solar thermal facilities
Experimental kits for grid-connected, off-grid photovoltaic and solar thermal systems containing real-life system components
A variety of solar thermal collector technologies (vacuum tubes and flat collectors)
Rooftop construction for solar module and collector installation
Standard software for PV and solar thermal system simulation
and much more.