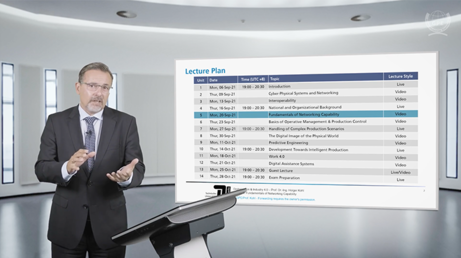 Global Production Engineering Digital
Global Production Engineering (GPE DGTL) is an online graduate program offered by the Technische Universität Berlin, Germany. Is it the digital version of the Master Program "Global Production Engineering" and can either be studied full-time in four semesters or in part-time.
The program is largely location and time-independent and thus also enables ambitious employed people to successfully complete their studies.
Teaching methods include both asynchronous online studies and synchronous face-to-face sessions via online conference platforms organized on a Moodle learning management system. The lecture material is produced by professional filmmakers and is specifically produced for online teaching. As new and experimental as the teaching methods are - The lecturers are very experienced and experts in their respective fields.
The curriculum is designed for outstanding international students seeking to improve their personal competence portfolios in the fields of production, engineering, management, and intercultural communication.
The program is designed to train manufacturing engineers in state-of-the-art production technologies and management methods of global companies. The planning and design of flexible, adaptable factories is a major educational focus. Production planning and control, process-oriented factory layout through simulation and virtual design are all part of the mix. Designing global supply chains, factory management, and project management are key skills required to ensure the economic viability and sustainability of manufacturing companies striving to obtain a competitive edge in a constantly changing global context. The GPE program promotes technical competencies in
Production engineering disciplines,
Global value creation,
Development of manufacturing processes and tools,
Factory planning,
Production control,
Logistics and global supply chain management,
as well as sustainability.
Particularly relevant for the program is also an adequate knowledge conveyance of IT tools for planning and designing products and processes. The curriculum includes courses on how to work in the field of Industry 4.0. Simulation tools for designing strategies in production planning and control, e.g. Tecnomatix Plant Simulation are taught.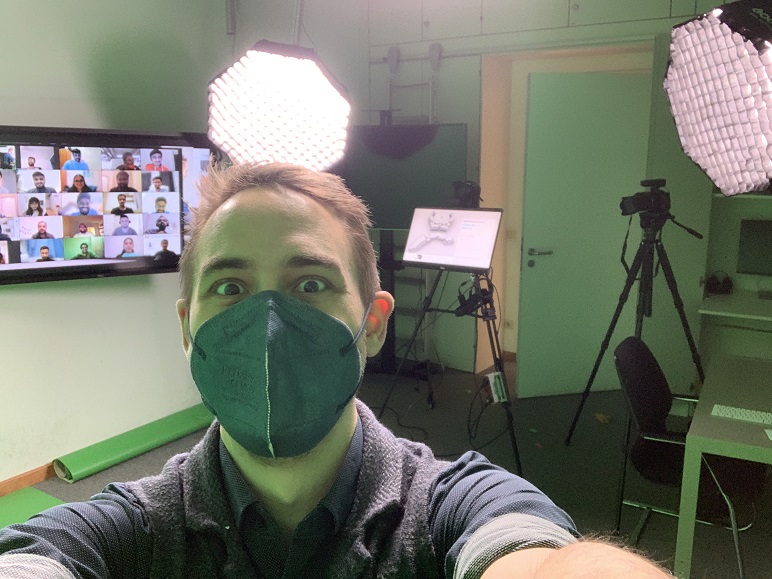 After the third semester, all students are invited to Berlin to participate in the optional Summer School. Optional Courses can be attended, so students can broaden their knowledge and acquire additional certificates. In addition, there are visits to trade fairs and excursions to the factories of large German companies. Other leisure activities are also offered.
The last twenty years have seen the formation of a global network of alumni. Today GPE graduates are employed as consultants or specialists in the manufacturing industry, e.g. for automotive, electric, electronics, aircraft, and food processing. GPE graduates also shape their professional careers in non-profit organizations and governmental institutions as well as in research and development.
Admission Requirements
PRE-EDUCATION
Bachelor of Engineering or equivalent,
Excellent grades
ENGLISH LANGUAGE SKILLS
1. You have studied & completed your B.Sc. in the UK, Canada, USA, Canada, Australia, or New Zealand – Your B.Sc. certifies your level of English knowledge

2. You are a citizen of a country where the national language is English – Please select "mother tongue" as a qualification of the language. Citizenship has to be verified by passport.

3. The following test results are accepted:
IELTS ≥ 6.5; TOEFL IBT ≥ 79; TOEFL CBT ≥ 213;
TOEFL PBT ≥ 550; CAE Pass, CPE Pass

4. English as a medium of instruction is not sufficient proof!
PROFESSIONAL EXPERIENCE
≥ 1-year experience is required, i.e.: 12 months after obtaining your Bachelor's degree,
Internships will be evaluated and might be accepted
GERMAN LANGUAGE SKILLS
Advantageous but not mandatory
Course Outline
DEGREE
Master of Science
CONTENT
Technology Management and German Engineering
LOCATION
Berlin, Germany – Technische Universität Berlin
DURATION
4 semesters (2 years):
3 semester courses, 1 semester internship & master thesis
COURSE OF STUDY
To be chosen from the following module groups:
A – Production
B – Engineering
C – Management
D – Intercultural Communication
E – Special Profile
FURTHER ELEMENTS
Internship (9 weeks)
Master thesis (16 weeks)
LANGUAGE
English
START
Annually on October 1st
Lectures start in the middle of October
APPLICATION
From October 1st to March 31st
SERVICE
Senior-Junior-Program, Pick-up upon arrival, general support and guidance
FEE
EUR 15,500 for the complete study program
(1 installment à EUR 6,200 & 3 installments à EUR 3,100)
Approx. EUR 120 per semester (public transport & administration)
to Top